DakhaBrakha
A Live for Life
2nd of June 2022, Thursday
20:00
Concert Hall
---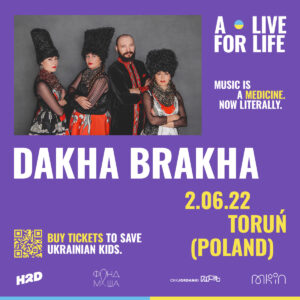 A series of charity concerts in support of refugee children from Ukraine.
A world-Famous Ukrainian quartet from Kyiv – DakhaBrakha – joins the charity concert marathon A Live for Life. They will perform their show in Tbilisi (Georgia) on the 27th of May and Torun (Poland) on the 2st of June.
---
At the beginning of March 2022 H2D concert agency In collaboration with the Ministry of Culture of Ukraine and local and western partners, launched a charity concert marathon. We gave it the name A Live for Life. The main purpose of the concerts is to raise funds to support children relocatee.
---
DakhaBrakha was created in 2004 at the Kyiv Centre of Contemporary Art «DAKH» by the avant-garde theatre director — Vladyslav Troitskyi.
Theatre work has left its mark on the band performances — their shows have never been staged without the scenic effects. Reflecting fundamental elements of sound and soul, Ukrainian «ethnic chaos» band DakhaBrakha, creates a world of unexpected new music.
At the crossroads of Ukrainian folklore and theatre their musical spectrum is more intimate than riotous, plumbing the depths of contemporary roots and rhythms, inspiring «cultural and artistic liberation».
---
Now their performance is a hymn to our defenders and to the Ukrainian people, who stand courageously and restrain this evil.
Proceeds from the concert will go to Masha Foundation, an ideological inspirer of which is Masha Efrosinina, Honorary Ambassador of the United Nations Population Fund.