Have you ever wondered what your friends think of you?
Do you think you can tell each other everything?
Do you think you have nothing to hide from each other?
You can be very disappointed. Unfortunately, the truth can be painful.
But there is no need to wring your hands. Instead of shedding tears, you can have fun at the expense of our – not entirely hearted – boon companions. They will blush, be stress out and sweaty, and when the atmosphere is incredibly hot and the emotions reach its peak, you will ask them: "Do you know that we know?". Their faces? Priceless! It is a risky and dangerous game, but it's worth its price. As they say – who doesn't risk never gets to drink champagne! Revenge can be really sweet.
Patrycja, Piotr, Alicja and Karol – the main characters in the spectacle "You know I know" – found out about it. They arranged for a dinner together, which was supposed to be, as always on such occasions – nice and pleasant. Unfortunately, before the meeting, one of them, by coincidence, found out what the others really think about them. And it was neither nice nor pleasant…
An excellent comedy and a plethora of Polish stars (Leszek Lichota, Magdalena Stużyńska/Ilona Wrońska, Michał Czernecki/Przemysław Sadowski, Magdalena Lamparska/Agnieszka Castellanos) not only amuses, but also tells us a lot about interpersonal relations. And it warns us – it is better to be honest than nice, because a lie has no legs.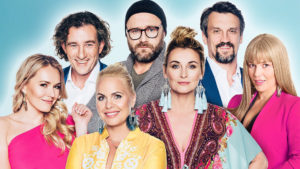 Cast:
Leszek Lichota,
Magdalena Stużyńska / Ilona Wrońska
Michał Czernecki / Przemysław Sadowski
Magdalena Lamparska / Agnieszka Castellanos
Director: Giovanny Castellanos
Screenplay: Carole Grep
Costumes: Aneta Suskiewicz
Set design: Witek Stefaniak