Jimmy Page formed Led Zeppelin band over 50 years ago. Unfortunately, the band ceased to exist after passing away its drummer – John Bonham who has been considered the best drummer ever.
For the love of their music, the band pLED ZEPCHLIM was founded. The concert will be a unique opportunity to listen to very difficult live compositions. The band really takes care of the smallest details when performing the songs, including the legendary  STAIRWAY TO HEAVEN.
Brilliant vocal, the perfect sound of a guitar and outstanding rhythm section. Come and see this performance just out of curiosity and you'll leave the show filled with emotion.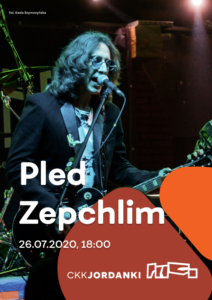 Cast:
Łukasz Panfilak – vocal and guitar
Wiesław Kryszewski (Open Blues, Nocna Zmiana Bluesa) guitar
Marcin Bobo Ryszewski  – bass
Piotr Vysol Wysocki (Kobranocka) – drums
The event is carried out as part of the promotion of the project "Improving the functioning of public transport in Toruń – BiT-City II" co-financed from the Cohesion Fund under the Operational Programme Infrastructure and Environment 2014-2020.

This event will take place in accordance with current guidelines for the sanitary regime.
Obey current rules of safety and sanitary regime, please:
Half of the seats in the audience
During the event, we will provide half of the available seats for the audience. Seats in each row will be occupied alternately. The principle of keeping one free seat between viewers applies. This rule does not apply to viewers who:
– participate in a show with a child up to the age of 13,
– is a person with a disability certificate, a person with a certificate of need for individual tuition, or a person who, due to his / her health, cannot move independently.
Cover your mouth and nose
cover your mouth and nose before entering the building. The absolute regulation of covering your mouth and nose applies throughout the entire event until you leave the building.
Hands disinfection
Disinfect your hands as soon as you enter the building. Dispensers with disinfectant will be available at the entrance and at the toilets. We recommend thorough and frequent hand washing.
Keep a safe distance
When moving around the facility, keep a safe distance of at least 1.5 meters from other participants of the event. Keep also a safe distance before entering the building.
Elevators
We recommend using the elevators only for families with young children, pregnant women, people with disabilities or the elderly.
Changing rooms
During the event you will not be able to use the changing room
Statement of the event participant
Before entering the event or when purchasing a ticket a participant should state that he is not an infected person and is not in quarantine or under epidemiological supervision. The administrator of your data is the Jordanki Cultural and Congress Center. Personal data will be processed only in necessary purpose to hold the event and maintain the principles of epidemiological safety.